PHYLUM CORDATA
SUBPHYLUM VERTEBRA
SUPER CLASS PISCES
CLASS CHONDRICHTHYES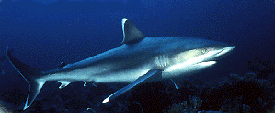 Chondrichthyans are a primitive and highly successful group of fish with a skeleton consisting entirely of cartilage, and having open gill slits. Most are marine predators, with well developed teeth. Some species are protected by hard scales on the skin.
Class Chondrichthyes, retaining over 950 different species, is composed of two sub classes, Elasmobranchii (sharks, rays and skates) and Holocephali (the chimeras, such as rat fish and elephant fish).
Super Order Selachii (sharks) first appeared in the Silurian Geological period somewhere between 430 and 395 million years ago. During the Devonian geological period 395 to 345 million years ago they expanded rapidly and probably became the dominant predator in the sea.

Click box for more information on geological time.
Scientists do not know the exact number of species or genera that have existed, because of the incomplete nature of their preservation. Many times the assignment of a genera or species was biased on isolated teeth or scales, and as new specimens become available their classifications are periodically being reassigned.


Click box for links to other sites about sharks.