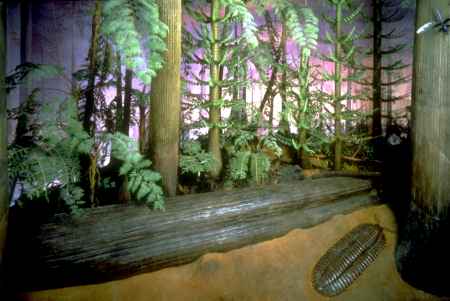 Photo from of the Field Museum of Natural History, Chicago, Illinois
Welcome to the Coal Forest.
The purpose of this site is to provide information on the Pennsylvanian Geological Period, and to display pictures of fossils dating from the period that were found in the coal mines of southwestern Illinois.
The fossils displayed are from the roof rock above the Herrin #6 Coal, (a member of the Carbondale Formation) and came from Coal Mines in St. Clair, Randolph and Washington Counties in Southern Illinois, which is located on the southwest side of the Illinois Basin.
According to the Illinois State Geological Survey, the #6 coal was deposited approximately 310 to 312 million years ago. In this local area the coal seam averages 7 foot tall.
Please use the buttons to the left to navigate through the site, and I hope you enjoy your trip.

Some sections are still under construction, and others are on hold until I have time to develop them. I felt that putting the information on line as soon as it was composed was more important then having a completed polished web site to display.
Many of the pages on this site are media intensive. Please read some of the text while you wait for the pictures to load. Many of the beautiful illustrations are well worth the wait!
This is a site is the work of an amateur collector, and much time has been spent trying to insure the proper classification of all the displayed fossils. Any errors in classification or any mistakes are mine alone. I welcome comments and critical review by all visitors. I hope that you will find this site informative and enjoyable.
PAGE LAST UPDATED: MARCH 3, 2002

Comments or Suggestions?

Please click on the animation to the right.